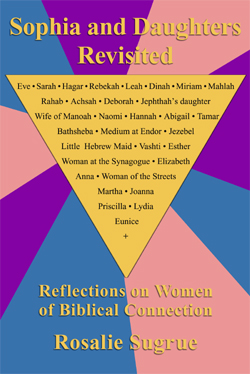 This easy-to-use book has strong feminist imagery and references focused on wom-en of the Bible.
Updated and expanded, it now provides reflections on Tamar, Di-nah, Naomi, Michal, Vashti, Jephthah's Daughter, Lenna Button, Susanna Wesley and Ann Turner to use in church during the sermon slot. Includes prayers & dialogues.
Buy it here
Rosalie Reynolds Sugrue is a fifth generation West Coaster. A wife, mother, grandmother, great grandmother and author, Rosalie is a retired teacher, and has also worked as a psychiatric nurse and motellier. She has been active in Jaycees, the Methodist Women's Fellowship, the Community of Women and Men in Church and Society, National Council of Women, the Churches' Agency on Social Issues, Victim Support and U3A. She continues an active role as a lay preacher leading one to three services every month in a variety of churches.