Confidence, honesty, soul food, scholarship, publishing, laughter, connection, three tikanga, spirituality, challenge, inspiration, academic support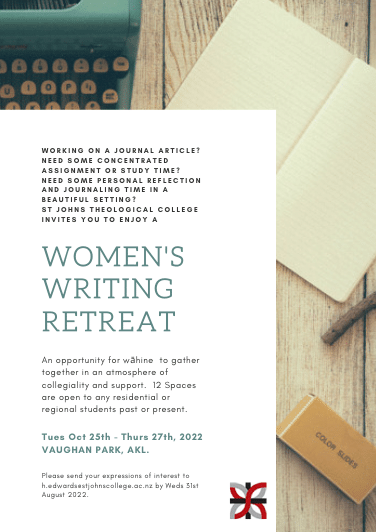 Twelve women from Aotearoa/New Zealand and Polynesia gathered for some days of intentional writing.
Some were polishing a piece of writing, some were writing proposals, some were developing poetry, some were seeking some guidance and collegial input.
Retreat costs were funded by the St John's College Women's Leadership Group, while travel costs were funded by the Anglican Women's Studies Centre.
Read some comments by participants.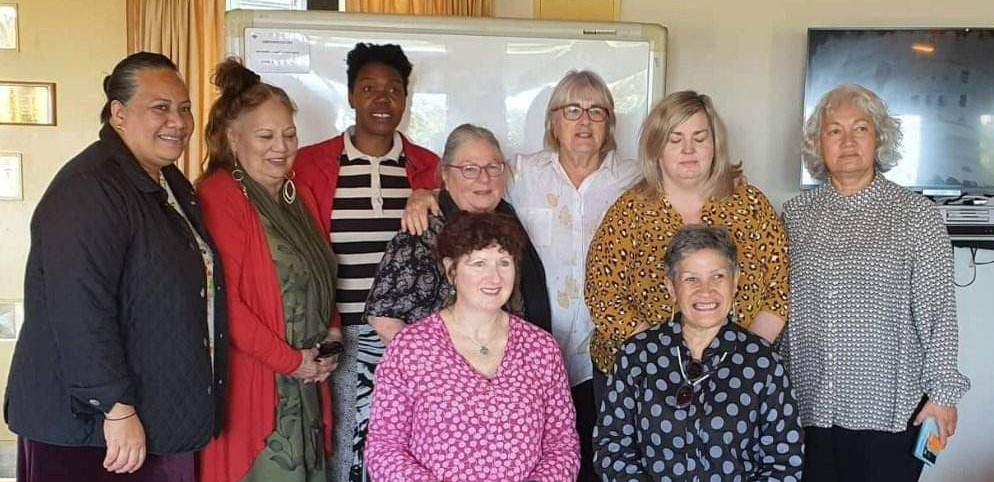 It was a long drive from Taranaki but an enjoyable one and the drive was worth every kilometer when we arrived at the beautiful retreat center. At our meet and greet I initially wondered what I was doing among the illustrious presence of these very learned women but I was soon at my ease in the friendly atmosphere. The generous amount of free time given for writing and reflecting was just what I needed and the presentations of Dr Paul Reynolds and Rev Helen Wilderspin were most helpful.

My interpretation of Paul's talk was to look for the untold truths and stories between the 'stories' which was so enlightening. Helen's interactive approach was invaluable for the times when it is hard to get started with an idea or to get into the crux of what is trying to be expressed.

I found the retreat gave me confidence in sharing my writings and some practical techniques in supporting my writing process. In terms of my ministry as a church leader and a chaplain I feel more empowered to openly share my gifts, particularly in devotional prayer. I am very encouraged by the potential to publish through scholarship availability and application in the near future.– Jill Fleet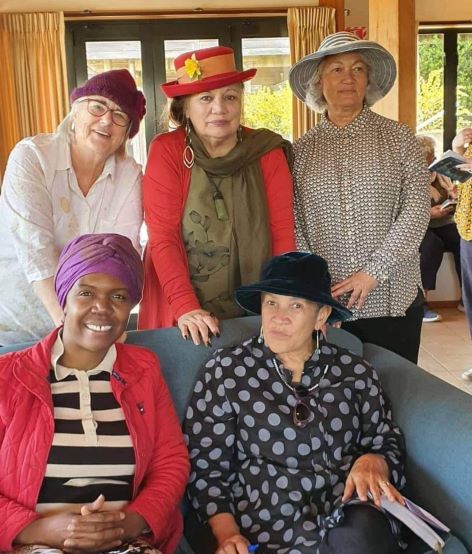 This Writing Retreat offered by the Anglican Women's Studies, and Women's Leadership Team based at St John's College, came at a time when I started writing poetry, a teenage passion I hadn't revisited until August '22. The opportunity to explore this further in an environment such as Vaughan Park, Long Bay was too good to miss. I work at our hospital, my role as a kaitakawaenaga, weaving and advocating services means always giving out, going the extra mile, similar to my non stipendiary priestly role in my spare time.  The rediscovery of writing has been like soul food, triggering long forgotten experiences, creativity, something I can do anywhere, anytime with just a pencil and paper. The Retreat further opened the space for more nourishment with the beautiful sandy beach, clean warm lodgings, tasty meals, morning Chapel and prayers, awesome guest speakers, supportive and encouraging women writers from our Anglican faith, and warm manaakitanga. -Numia Tomoana
It drew women from all parts of the country and across the 3 tikanga.

I particularly enjoyed getting to know some women from the other tikanga as the opportunities to do so are rare. It was an excellent opportunity to network, to share stories, worship together and encourage each other.

As women we tend to do the lion's share of the caring in our families so it was nice to be looked after, have our meals cooked by the wonderful chefs of Vaughan park and be free of domestic duties for a few days.

The retreat centre is a beautiful place and being there by the beach was uplifting and inspiring. We were all doing different types of writing. Some PhDs or other academic work, some poetry, some reflective journal writing and others seeding for future writing projects.

The input from Paul Reynolds and Helen Wilderspin was appreciated.

It was good to be made aware of developments in the church such as the new Anglican Theology journal coming out of St Johns and the women's leadership network. These are both positive developments.-Tilly Flood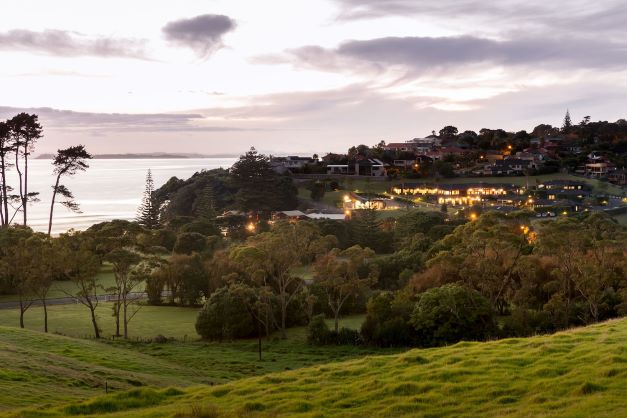 In addition to the work of writing, I really enjoyed fellowship with the other participants. It was so great to be able to have a concentrated time of work, then be able to have other writers, academics, co-sojourners to fellowship with during break times.
A practical aspect that was a huge help in getting writing done was the fact that I didn't have to worry about cooking or the other mundane but necessary aspects of life. Another feature that was so refreshing was the location, Vaughn Park itself is well kept with lovely accommodation and facilities – the chapel is just beautiful, as is the natural environment where Vaughn Park is situated.
It was such a blessing to be able to chat over a challenging issue with Rev Sapati Tima and have him pray for me. Also, meeting and sharing with Bishop Bruce Gilberd was very special. These opportunities are priceless and I am very grateful I was able to partake.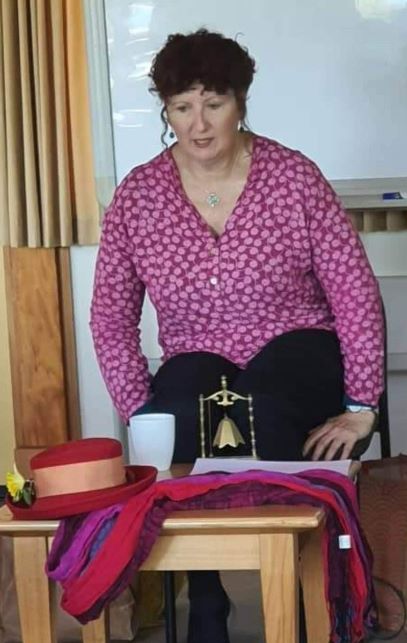 Helen inspired us with her gifted way of writing poem. It is just as simple as writing an article, Journal, and other forms of writing. She started by trying to connect us with our senses of feeling, imaginations, taste, smell. Although it was fun, the powerful message that came to me was that we must connect to the unknown through our senses.

This Retreat to me was so constructive that I instantly pictured my story as we discussed with the quest speakers. Listening to so many stories told, it gives me great passion to tell my own story not from a view of anyone else but from our own mouth as Tikanga Pasifiki.

I felt well nourished after this Retreat spiritually mostly as well as the impart of knowledge from each and everyone. The sharing that we had at the dining to the cheeseboard and wine/juice and not to mention the late-night chatting infront of the fire place.

To conclude my report, I highly valued this Retreat and looking forward to start my writing centered on Ordained Women in Tonga.– Akanesi Folau
With thanks to Moeawa Callaghan, Jax Clark and all the St John's Women's Leadership Group, and the Anglican Women's Studies Centre.