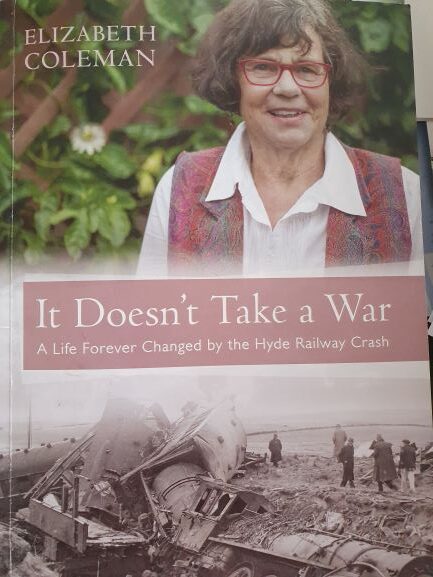 'It Doesn't take a War'- is the story of Elizabeth Coleman's life, which was changed forever by the Hyde Railway Crash.
Elizabeth's father and eldest brother were killed, and another brother was injured in the passenger train crash on 4 June 1944. The terrible railway accident devastated young Elizabeth and her family, as well as deeply affecting the whole area.
Twenty one people were killed and many other injured, adding to the grief and anxiety experienced by the whole country during the war years. With her father and brother gone, Elizabeth and her family lost their means of livelihood and had to move off the farm. Her mother was terribly shocked and was emotionally unavailable to her children, and unable to help them recover from the effects of their loss.
It has left Elizabeth for much of her life feeling emotionally and mentally disabled, but extraordinarily, she believes that recovering from the effects of loss can be a gift.
It was great to recognise some of  the people who offered support to Elizabeth as an adult -the Revd Gillian-Mary Swift, and the Revd Rory and Doe Redmayne,  and Don and Joan Fergus, and the Revd Graeme and Barbara Nicholas. These names will be familiar to many readers. 
Elizabeth says she was driven to tell this story, 'not just as a 'catharsis' for my healing', but to live more completely for the remainder of my life. My intention is also to break the chain by which pain is passed on down the generations. I hope too that it may help others achieve healing in their own lives.'
"It doesn't take a War' is a very sad and moving story, beautifully written, with honest self -awareness. Elizabeth's wisdom and depth of local knowledge shine through. Her story is also invaluable for anyone one involved in pastoral care and grief counselling for, as Alister Hendry says, 'You never find closure to grief. It's always a part of you.'
The losses of Elizabeth's life have finally made her more resilient and strong willed, and able to gift her experience for the enrichment of others.
Elizabeth has been connected with the Anglican Women's Spirituality network for many decades, and has been part of many gatherings over the years. She sent a copy of her book to Ceridwyn , at the Anglican Women's Studies Centre.
Thank you, Elizabeth.
Elizabeth Coleman(2019) It Doesn't take a War: a Life forever changed by the Hyde Railway Crash. Available from https://www.wheelers.co.nz/browse/author/485991-elizabeth-coleman/
Alister Hendry (2014)Earthed in Hope: Dying Death and Funerals- a Pakeha Anglican Perspective. Philip Garside Publishing Ltd