Amy Ross is supporting churches on the journey to sustainability
Amy Ross recently joined the Eco Church NZ team as the Community Coordinator for the Wellington region. She lives in Porirua with her husband, an Anglican vicar, and their two lively young sons. She was based in England for 10 years prior to 2020 and connected with A Rocha UK in various capacities throughout that whilst working for a mixture of Christian and environmental organisations. She has also pursued graduate research in climate justice, participation, environmental governance and sustainable consumption. Most recently she has begun examining links between faith and community participation in climate change response planning. Amy has particularly enjoyed visiting A Rocha Ghana and A Rocha France over the years as well as getting to know A Rocha friends from other countries. She is currently involved in supporting her own church on their Eco Church journey, the third church (the first two in the UK) that she has had the privilege of doing this with!
hear more from Amy at the AWSC Leadership Hui : te Orokohanga o te Ao, The Earth as our Mother, Na Tina ni Vanua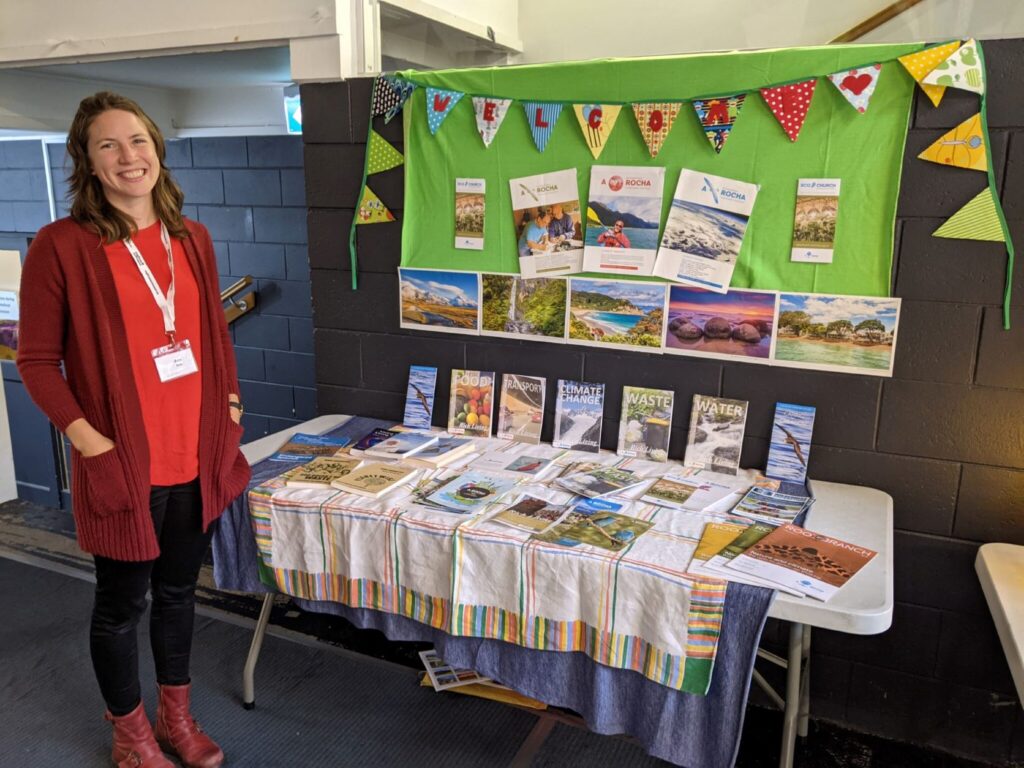 We hear from Amy about what she has been up to this last month on the job:
"It has been really encouraging and exciting to meet with eco church champions and/or church leaders from several local churches, both in person and on Zoom. A series of discussions with the Anglican Diocese of Wellington led to an invitation to introduce Eco Church at the annual Family Camp, which was attended by church leaders and their families from right across the diocese. There I was able to visually represent Eco Church via a colourful stall that stayed up for the weekend in a central location, and also give a more detailed introduction to Eco Church in a workshop, which was well-attended with engaged representatives from 15 churches. Several positive connections and conversations flowed out of this over meals and coffee breaks."
"I have also started promoting Eco Church through growing networks in Porirua and nationally, and have been contributing to the development of resources to support churches on the journey towards sustainability. Alongside this, it has been a pleasure to help facilitate my own congregation's eco church planning and efforts, including working on the initial church self-assessment worksheet and event planning. A highlight was hosting a fun Harvest mini-festival, complete with intergenerational activities such as a seed to tree matching game, crop swap, rock gardens creation and homegrown produce display."
Do you have the passion to help church communities integrate sustainability and care of creation into the life of the church? We are looking to expand the Eco Church NZ team by appointing volunteers into support roles across Aotearoa New Zealand. Volunteer positions may be turned into paid positions as funding becomes available. Get in touch to explore options.
Article about Amy used with permission.