The karanga rang through the warm evening to welcome the arrival of the new Dean of Waikato. The Revd Wendy Scott escorted by many friends and whanau walked up the aisle  of the Waikato Cathedral Church of St Peter, in Kirikiriroa , Hamilton. Suddenly a lone voice sang out – I thank you Lord for this amazing day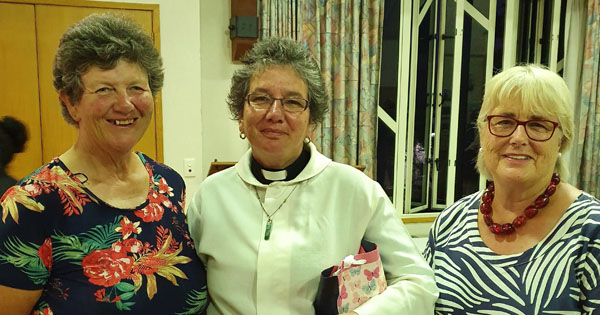 Everyone joined with great enthusiasm as Wendy took her place up the front of the packed Cathedral.
It was an amazing and historic event. Wendy is thought to be the first Maori to be Dean of a Cathedral, and she is one of only two woman Deans in the Anglican Church in Aotearoa, New Zealand and Polynesia. The Very Revd Anne Mills is Dean of Auckland. Wendy is the first woman to be Dean of Hamilton Cathedral, following fourteen men.
The installation service was a rich mixture of Maori chant, contemporary song, traditional hymns, beautiful singing from the choir, entertaining and thought provoking words from The Revd Digby Wilkinson, gifts and symbols from Cathedral representatives, and enthusiastic applauding when Wendy was placed in her official Dean's seat.
Wendy was commissioned by two Bishops– The Right Revd Ngarehu Katene, Te Pihopa o te Manawa o te Wheke, and the Most Revd Philip Richardson, Bishop of Taranaki and Waikato, Archbishop and Primate.
The roles of a Dean include…
ensuring the Cathedral continues to be a church of welcome and hospitality and prayer
working with care and imagination with the Vestry
serving the three tikanga church within the Diocese, Hui Amorangi, the province and the world.
The Bishops prayed for the gifts of grace to guide, uphold and inspire Wendy as she begins her new role.
Kia kaha, kia toa, Wendy.
The Anglican Women's Studies Centre welcomes Wendy in her new leadership role, and looks forward to reading her story in our upcoming publication, marking 40 years since women were ordained in the Province.