Who is Kitty O'Meara?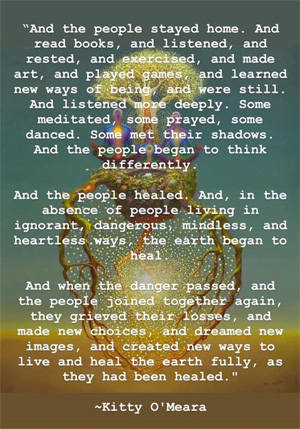 Kitty is a retired teacher and chaplain, who lives in Madison, WI, USA. She spoke to Oprah magazine.
"I was getting kind of sad. There was nothing I could do. I couldn't help my friends. I was very worried about them. My husband said: 'Write. Just write again,'" O'Meara recalls. 
So, she did. "I just kind of sat down and wrote it," O'Meara says matter-of-factly, crediting "spirit" with the process. "I saw the maps of the receding pollution over China and Europe. I thought, 'There you go. There's something of blessing in all suffer-ing.' And I thought with my passionate love for the Earth, maybe that's one good thing."
Immediately after writing, O'Meara shared this poem with her friends on Facebook. "I post stuff like that all the time. I usually don't get a lot of response," O'Meara says. "But this found its niche."
That's an understatement; the poem resonated with people instantly. Soon, a Facebook friend asked to share the poem with her own followers, and within three days of posting, her husband, encountered the poem elsewhere on the Internet. Kitty O'Meara had officially gone viral.
While O'Meara has "always considered herself a writer," the response to this "mini-reflection," as she calls it, is an encouragement to keep writing—especially through the age of coronavirus. "Write, that's what you do. So that's what I'll do. I'll keep writing," O'Meara says. "We have gifts. It's a good reminder that whatever your gift is, and however small it is, keep using it. This is a really good time for that."
https://www.oprahmag.com/entertainment/a31747557/and-the-people-stayed-home-poem-kitty-omeara-interview/