Jenny Quince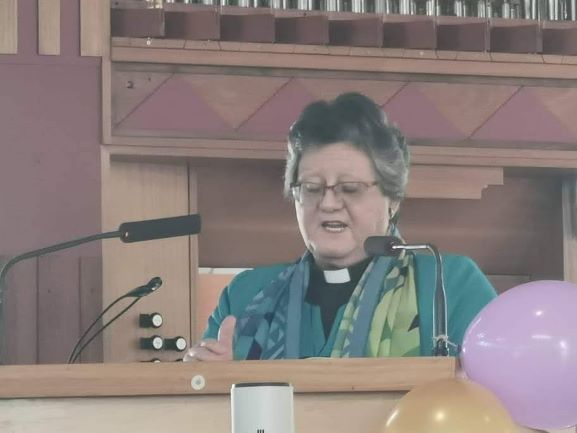 The Revd Jenny Quince describes her discovery of over 800 women priests, in her contribution …..
When we first started researching just how many women had been priested in Aotearoa and Polynesia we were overwhelmed by the numbers presented.
We also thought about privacy issues surrounding this kaupapa and have decided to put all the names collected so far on the Altar, to bless them and to make it "a work in progress."
Many Diocese kept good records and others not so good.
This has been a huge learning curve for us because I have over 800 names so far.
In 1963 Deaconess Glenys Lewis was commissioned to travel around NZ to spread the news of the ministries open to women in the Anglican Church.
1976 General Synod votes to admit women to the Priesthood. Appeals are lodged and dismissed right up to when the "Famous Five" are priested in 1977.
Previously women who wanted to do theological training were forced to go overseas or do a correspondence course from Australia. It was noted that the idea of women being resident in a "mans" theological college in this period was ridiculous, especially because it was not until 1963 that a woman was even permitted into the college refectory for an official meal. Therefore a separate training institute (they said) was required.
Which was why in 1966 The Deaconess House was opened, and in 1970 it finally moved into an Annex at St John's College.
Many Vocational deacons chose not to be priested but they have been ordained into God's service and we should recognise them for the huge contribution they made.
1990 Dr Penny Jamieson was ordained Bishop of Dunedin – the first woman Diocesan Bishop in the World. Her life was made very unpleasant by many of her peers, you might be interested to read her autobiography.
There are so many stories that could be told but I decided that I would try to narrow it down and try to give an insight into what it was like for our women in ministry.
The first Maori woman Deaconed according to Bishop George Connor was 1933.
The first woman Deaconed by Te Pihopatanga O Aotearoa was the Rev Emmeline Taukamo, of the Huata Whanau.
The first Maori woman Priested by Te Pihopatanga O Aotearoa was the Rev Jane Hanna in 1987 at Manutuke.
6th May 1998 a celebration service was held for the ministry of women especially honouring our first Anglican Maori Woman Priest the Reverend Puti Hopaea Murray on her 20th anniversary of being priested. Three years earlier Rev Diane Tana was ordained in the Methodist Church.
Rev Puti was ordained in 1978 five months after the "Famous Five" of 1977.
Reverends Jean Brookes, Heather Brunton, Wendy Cranston, Rosemary Russell and Cherie Baker.
Rev Canon John Tamahori delivered the Kauwhau at the Celebration Service in 1998.          He chose The Gospel of Luke and spoke about 'The Boy Jesus in the Temple' focussing on "Why are you searching for me? You knew I had to be in my Father's house".
You can read all of Jenny's chapter, plus more than forty other
stories, by ordering your own copy of Talanoa, Telling our
Stories, Kōrerohia o tātou pūrakau:40 years of the Ordination
of Women to the Priesthood in the Anglican Church in Aotearoa, New Zealand andPolynesia
Available from gensec@anglicanchurch.org.nz
$25 plus P&P, or $22 plus p&p, for orders of more than 5.