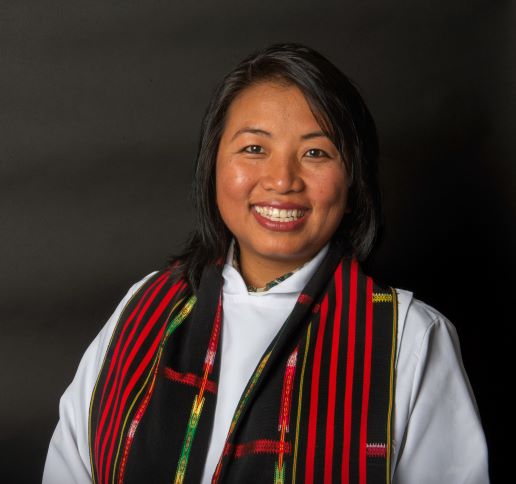 Jekheli Kibami Singh read from her contribution at the launch of our latest publication.[1]
My story begins with my Sümi context of Nagaland and continues in my current ministry context of Aotearoa New Zealand.
Brief Context of Sümi
I am a woman of the Sümi Naga tribe (aka Sema), one of various ethnic groups found primarily in Zunheboto district, Nagaland, in the northeast of India.
The majority of Sümi profess to be Christians. There is a strong connection between reading and understanding the biblical texts and understanding gender roles and relationships. Women often navigate around these societal, gendered parameters.
Despite the male-priority culture and traditions, the Sülimi (Sümi women's) role and contribution is remarkable: in the village chieftainship, in the traditional economy,
in the church, during feasts and festivals, in peace-keeping and in the weaving for warmth, identity and status. Weaving is literally and metaphorically significant in maintaining the fabric of the community – a creative story-telling and preserving of Sümi life, it is a painstaking task traditionally and exclusively done by women. Women's dedicated contribution, as individuals and in collectives like the Sümi Totimi Hoho (Sümi Women's Organization), and in the life of the church since the inception of Christianity among the Sümi in 1904, has been notable.
My Nagaland Family:
I am blessed to have amazing parents – Hokhuvi Kiba and Hokhuli Achumi – who cared and nurtured their family. They are dedicated Christians and were both active lay ministers. From them, I learned that faith is a deeply personal journey that can turn you into a passionately outward-looking human being.
God's call in my life happened not in any phenomenal or supernatural encounter.
I was seven when I told my parents that I would serve God when I grew up. Although terrified at the commitment I was making at such a young age, my parents always prayed for me. They were aware of the challenges and responsibility of being in the service of God. My siblings and I learned through our parents the foundations of Christian faith and practice, such as reading the Bible, prayer and fasting, participating and leading in worship and prayer both at home and in church.
As I grew older, God's call in my life and my decision to follow Jesus was reaffirmed. I said many prayers over Isaiah 6:8.[2] My journal entry from October 10, 1994 reads:
"Isaiah the prophet replied to the Lord saying, 'Here am I send me.' Is. 6:8.

There is an answer:

an answer which pierces a girl's heart,

and that's not an ordinary quest's answer,

But a real verbal reply.

She once has shed tears,
Just because she had no courage;

Courage to utter 'The Reply'

She could not help but stammer.

She now prays,

"Lord, Here am I send me
Not for what I am but for what you are.

Not for my sake but for yours alone."
Some have responded in disbelief that my sense of vocation has always been part of my conscious life. Someone suggested it could be because "where you grew up there may not be many career options".
---
[1] Priest in the Waikato-Taranaki Diocese, Aotearoa, New Zealand; married to Rev Rajnish Singh and blessed with two sons Uday Vito Singh and Avika Kibami Singh.
[2] Then I heard the voice of the Lord saying, "Whom shall I send, and who will go for us?" And I said, "Here am I; send me!"
You can read more of Jekheli's story, plus more then forty other
stories, by ordering your own copy of Talanoa, Telling our
Stories, Kōrerohia o tātou pūrakau:40 years of the Ordination
of Women to the Priesthood in the Anglican Church in Aotearoa, New Zealand and
Polynesia
Available from gensec@anglicanchurch.org.nz
$25 plus P&P, or $22 plus p&p, for orders of more than 5.