Reverend Sereima Lomaloma, Founder and Trustee of the House of Sarah, and senior faith leader, writes of an initiative to reject violence.
"When we eat, men get a bigger portion. If there's something left in the pot, women get that little portion. Even women took that as normal – that's the way we were brought up," says Reverend Jone Tuiwaiwai, a pastor at the Anglican Church in Wailoku Parish, Suva.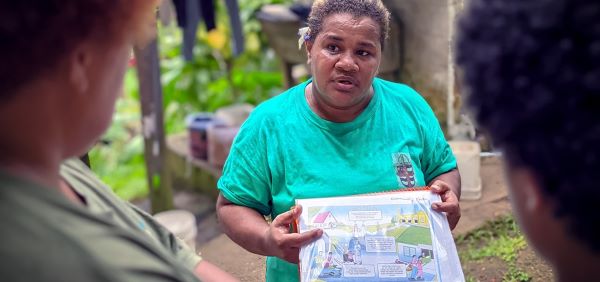 "In the eyes of God, both men and women are given power. We are all equal. But how some people interpret the Bible is misleading, giving men more power, which brings violence," says Reverend Tuiwaiwai. "There are things God gave us that we cannot change, but our social roles are not one of them. We can change them."
Using faith-based approaches to change social norms
The community-led initiative is being piloted in three Christian communities in Fiji: St Mark's in Newtown; St Michael and All Angels in Matata; and St John the Baptist in Wailoku. The project aims to create a community that rejects violence against women altogether and to prevent it from happening. Based on Biblical teachings, community members influence each other to reshape the power imbalance between men and women that drives violence and transform social norms that accept violence as 'normal'.
"You first examine the Bible," says Reverend Lomaloma. "You take people back to what the Bible says about men and women being created equal. When you've done that, you bring in gender issues, then the penny just drops." says Reverend Lomaloma. Taking a fresh look at the scriptures is expected to change attitudes and mindsets, which in turn will result in changed behaviour.
During this first phase of the initiative, the project team supported church leaders to examine power dynamics in relationships and reflect on how they could influence their faith communities. The team also worked with clergy members to develop Bible-study programmes about human rights and unequal power relations between husbands and wives. This power imbalance is the root cause of violence in the home.
Learning about the biblical text through the project was the turning point for Tomu Dari, a community activist. His wife, Alisi Dari, introduced the initiative to Tomu, who often used violence at home before the project began. "We are brought up to listen to the pastors, to follow God, and to obey His teaching," explains Tomu. "So, when we learn the biblical texts, and when the pastor digs deeper into the teaching, we follow."
As one of 37 community activists, Tomu now passes the teachings he has learnt on to other men in his community – though it's not always easy.
"When I see men on the road, I invite them for tea. When I see men having kava [a traditional Fijian drink], I buy them one. That's how we start the conversation. You try three or four times, and they finally listen to you. It takes time."
read more: https://asiapacific.unwomen.org/en/news-and-events/stories/2021/08/changing-minds-and-hearts